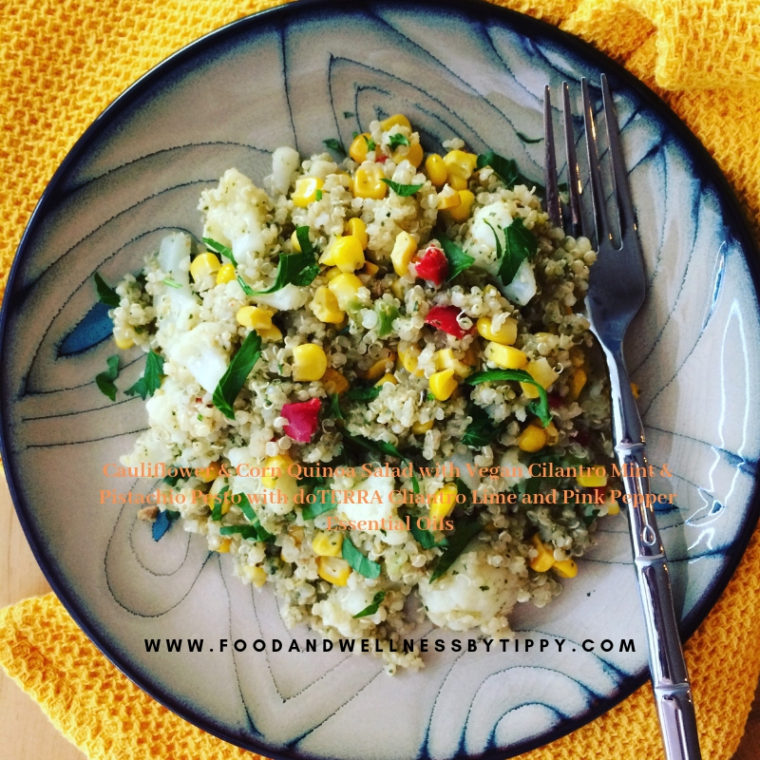 I love cooking with quinoa and always have it stocked in my pantry. I don't know about you, but I like to cook with ingredients that I already have in my pantry, refrigerator, and freezer. To me, it is about cooking on a budget while utilizing what I already have in my kitchen. Cooking on a budget does not have to be unhealthy or sacrificing textures and flavors. In a previous blog post a few weeks ago, I shared with you my Vegan Cilantro Mint & Pistachio Pesto with doTERRA Cilantro, Lime, and Pink Pepper Essential Oils (https://foodandwellnessbytippy.com/vegan-cilantro-mint-pistachio-pesto-with-doterra-cilantro-lime-and-pink-pepper-essential-oils/). I made a large batch of this pesto and froze half of the batch while using the other half immediately. I have been eating chicken and fish throughout the week and wanted to change up my nutritional needs. When I saw the frozen batch of the pesto in the freezer, I immediately thought about making a vegan dish. I had a frozen bag of seasoned corn and cauliflower florets and that was how this dish was created. You know, I enjoy watching the "Chopped" show on the Food Network channel and with a food creative mind like myself, I think I would be a good candidate for the cooking competition show! However, my physical limitations related to joint deformities as a result of Rheumatoid Arthritis won't serve me well in a high-paced and intensive timed cooking. I felt like cooking quinoa and mixed both of the frozen vegetables into a salad and then tossed in the pesto to give this quinoa salad a bright and herbaceous flavor. This quinoa salad is dairy-free, gluten-free, and vegan. For all the vegan and gluten-free enthusiasts out there, you will enjoy this dish! I had so much fun creating this Cauliflower and Corn Quinoa Salad with Vegan Cilantro Mint & Pistachio Pesto with doTERRA Cilantro, Lime, and Pink Pepper Essential Oils. This dish is simple and quick to make if you already have the pesto made.
I mentioned earlier that I keep a well stocked pantry with my favorite gluten-free grains and seeds. I usually purchase a bag of organic white quinoa, organic red quinoa, and organic tri-colored quinoa. It depends on what type of dish I am making and I decide which colored quinoa I want to use in a particular dish. For this recipe, I used the organic white quinoa. Did you know that quinoa is considered a seed and not a grain? Not only is quinoa gluten-free, it is packed with a good source of fiber and protein. Here is a great article titled, "11 Proven Benefits of Quinoa," that I found on the Healthline website (https://www.healthline.com/nutrition/11-proven-benefits-of-quinoa) in which the author talked about the benefits of quinoa. I found the article informative because the author provided facts. If you are on a gluten-free diet and have not tried cooking quinoa, it is delicious and can be made into a salad, soup, or stew dishes. Quinoa is a versatile seed just like other grains, but cooks faster than brown rice and white rice. I used to like and ate couscous a lot before I switched to mostly a gluten-free diet. Couscous is not gluten-free, but is used in most Mediterranean dishes. You can use quinoa in place of couscous and it's still delicious!
For this recipe, I used a frozen bag of Green Giants brand Honey Roasted Sweet Corn that was already seasoned. This is an 11 oz. bag and can be found in the freezer section of the grocery store. Believe it or not, frozen vegetables are just as good as fresh vegetables since they are picked and immediately cooked and frozen to maintain quality freshness. Besides, frozen vegetables are so much cheaper than fresh produce. Now, I'm not saying that I cook and eat mostly frozen vegetables. I love fresh produce and buy them to cook certain recipes. Again, a well stocked freezer should have some of your favorite frozen vegetables and fruits. They are handy when you are on a time crunch and need to make a quick meal for your family.
This quinoa salad can be served as a side dish with a protein of your choice like chicken, pork, fish, or shrimp. To keep this dish vegan, you can serve it with cooked tofu or vegan proteins. It is delicious on its own and can be served as a main course. For texture, you can add toasted pumpkin seeds, toasted almond slivers, or toasted chopped walnuts. I hope you enjoy making this quick quinoa salad! Feel free to give me feedback in the "comment box" and let me know how you like this vegan quinoa salad.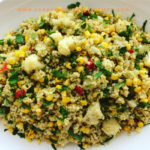 Cauliflower and Corn Quinoa Salad with Vegan Cilantro Mint & Pistachio Pesto with doTERRA Cilantro, Lime, and Pink Pepper Essential Oils
Ingredients
1

cup

Organic White Quinoa

2

cups

Organic Vegetable Broth or Water

12

oz

Bag of Frozen Cauliflower Florets

11

oz

Bag of Frozen Green Giant brand Honey Roasted Sweet Corn

1/3

cup

Vegan Cilantro Mint & Pistachio Pesto with doTERRA Cilantro, Lime, and Pink Pepper Essential Oils

(if frozen, thawed)

2

tbsp

Extra-Virgin Olive Oil

2

tbsp

Chopped Fresh Flat Leaf Parsley (for garnish)

Salt and Black Pepper to Taste
Instructions
Place quinoa in a fine strainer and hold under cold running water to rinse. Drain well.


In a medium saucepan, boil 2 cups of the organic vegetable broth. You can substitute for 2 cups of water. Then add the Quinoa to the broth.


Reduce the heat to simmer, cover and cook until the seeds are translucent and the germs have spiraled out from the seeds. Continue cooking the Quinoa for about 15 minutes.


When Quinoa is done cooking, turn off the stove and let it rest for 5 minutes. Then fluff with a fork.


Steam the frozen cauliflower florets in the microwave according to the instructions on the bag. I steamed it in the bag for 4 minutes in the microwave. Carefully remove the steamed cauliflower from the microwave and let it rest for 2 minutes before opening the bag.


Then steam the frozen bag of roasted corn in the microwave for 4 minutes or according to the instructions per your microwave wattage. When done, carefully remove from the microwave and let it rest for 2 minutes.


Transfer the cooked Quinoa to a large mixing bowl. Add the steamed cauliflower florets and corn. Gently toss the Quinoa and vegetables.


In a small bowl, combine the pesto and extra-virgin olive oil. Mix thoroughly. Then toss in the pesto with the Quinoa and vegetable mixture. Gently mix until pesto is well coated with Quinoa, cauliflower, and corn mixture. If needed, add a pinch of salt and fresh ground black pepper to taste.


Transfer the Quinoa salad to a serving platter or bowl. Garnish with chopped fresh parsley. Enjoy!