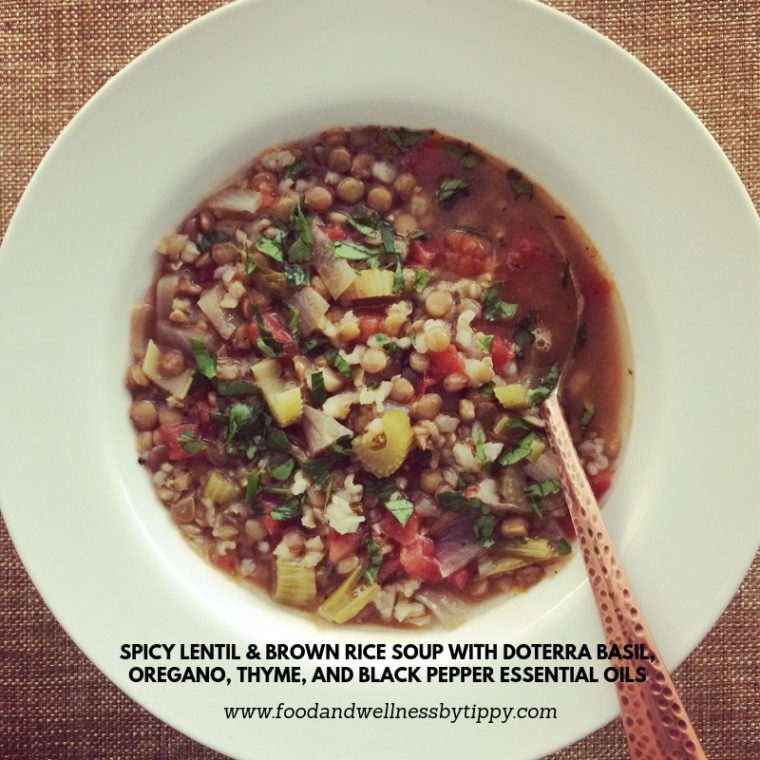 During the winter season when the weather is cold, I love making a variety of soups. I think most people will agree that soups are comfort food for those frosty and cold days and nights. When I was growing up, my mom made Asian style chicken and rice soup and homemade Vietnamese rice noddle and chicken soup. These soups became a staple meal in my family. When I got older and developed a desire to cook, I made both Asian and American style soups. During the past two years, I started incorporating more legumes and gluten-free grains and seeds into my diet. Lately, I've been making vegetarian or vegan soups. The inspiration for this spicy lentil and brown rice soup came about when I was craving for a vegetarian soup. I had a stalk of celery that needed to be eaten soon and only had one red onion. I looked in the pantry and saw some brown lentils and brown rice.
I had a can of diced tomatoes with jalapeno and habanero peppers so I thought it would be nice to add this ingredient into the soup. I underestimated the can of diced tomatoes with the two chili peppers and assumed that it was probably mild spiciness. I grew up eating a lot of spicy foods so for my family, what is considered spicy hot for most people is usually mild spiciness for us. After cooking the soup, I realized the "true spiciness level" of the canned diced tomatoes. It was a good spicy soup and will certainly clear any congestion after eating this soup. If you don't like or want the soup to be spicy, you can use a can of regular diced tomatoes without the chili peppers.
The two main ingredients in this soup are the lentils and brown rice. Brown rice is a hearty grain and is gluten-free. It is chewy with a nutty flavor. Brown rice is nutrient-rich and is packed with an excellent source of vitamins and minerals. It also has a good source of fiber. Brown rice has been around for a while and most people are using more brown rice than white rice in their diet mainly because of its health benefits. Here is a good article that I found (https://www.organicfacts.net/health-benefits/cereal/brown-rice.html), which summarized the health benefits of brown rice.
Lentils are considered seeds and not beans. They are cooked and eaten regularly in vegan and vegetarian diets. Similar to brown rice, lentils are also nutrient-rich and provide an excellent source of plant-based protein and fiber. There are different types of lentils and they vary by color. Brown lentils are commonly used in cooking because they hold their shape even when it's been cooked for a longer period of time, especially in slow cooking soups and stews. For this reason, I used brown lentils in this soup recipe. If you haven't tried cooking lentils, this soup will satisfy your taste buds. For more information about the nutritional health benefits of lentils, you can check out this article titled, "Lentils: Nutrition, Benefits and How to Cook Them (https://www.healthline.com/nutrition/lentils).
This soup is best cooked on low heat while it simmers for at least 50-60 minutes. Both the brown rice and lentils are dense and hearty ingredients so they take time to cook. I used the traditional stove top cooking method, but this recipe can be made in a crock pot or an Instant Pot. I do have a crock pot, but wanted to cook it in a soup pan over low heat allowing the ingredients to bloom its flavors over time. As you can see the picture shown above, this is what the soup looks like when it's done cooking. Notice that the brown lentils maintained its shape.
I love incorporating doTERRA essentials oils in daily cooking. The thing to remember is that "not all essential oils are created equally." doTERRA is a high standard certified pure therapeutic grade essential oils. The company uses a third party, independent testing group consisting of researchers (biologists and chemists) to test the efficacy and potency of all the essential oils. I am so thankful that doTERRA offers herb essential oils that can be used safely in cooking to enhance the flavors of any dish and also provide health benefits. In this soup, I complemented the dried herbs with doTERRA Basil (https://www.doterra.com/US/en/p/basil-oil), Oregano (https://www.doterra.com/US/en/p/oregano-oil) , Thyme (https://www.doterra.com/US/en/p/thyme-oil), and Black Pepper (https://www.doterra.com/US/en/p/black-pepper-oil) essential oils. The combination of these essential oils gave the soup a bold herbaceous flavor!

Spicy Lentil and Brown Rice Soup with doTERRA Basil, Oregano, Thyme, and Black Pepper Essential Oils
Total Time
1
hour
18
minutes
Ingredients
2 –

32 oz.

Carton of Low Sodium Vegetable Broth

(8 cups total)

1 1/2

cups

Dry Brown Lentils, Sorted & Rinsed

3/4

cup

Short Grain Brown Rice

1

Medium Red Onion, Chopped

5

Ribs Celery, Chopped

4

Cloves Garlic, Minced

1 –

14 oz.

Can Del Monte Brand Petite Diced Tomatoes with Jalapeno & Habanero Peppers

(use both tomatoes and juice)

1/2

tsp

Dried Basil

1/2

tsp

Dried Thyme

1/4

tsp

Dried Oregano

1

tsp

Smoked Paprika

3

tbsp

Red Wine Vinegar

3

drops

doTERRA Black Pepper Essential Oil

3

drops

doTERRA Basil Essential Oil

3

drops

doTERRA Thyme Essential Oil

2

drops

doTERRA Oregano Essential Oil

1 1/2

tbsp

Extra-Virgin Olive Oil

Salt and Fresh Ground Black Pepper to Taste

1/3

cup

Fresh Flat Leaf Parsley, Minced
Instructions
In a 4 quart stock or soup pot, add the vegetable broth and bring to a boil.


While the broth is coming to a boil, prepare to saute the onions and celery. Using a medium saute pan, heat the olive oil over medium-high heat. Then add the red onions and celery. Saute until onions and celery are slightly soft, about 5-6 minutes. Then add the minced garlic and continue sauteing for another 3-4 minutes until vegetable mixture is aromatic.


Once the broth has come to a boil, add the brown rice and lentils. Then reduce the heat to low.


Add the sauteed vegetable mixture, canned diced tomatoes with chili peppers, dried basil, dried thyme, dried oregano, smoked paprika, red wine vinegar, doTERRA Black Pepper, Basil, Thyme, and Oregano essential oils.


Cover the pot and simmer on low heat for about 50-60 minutes or until the rice and lentils are tender, stirring occasionally.


Taste the soup and if needed, season with salt and fresh ground black pepper.


Dish up the soup and serve in individual bowls. Garnish with minced parsley. Savor the warm spices of the soup and enjoy!