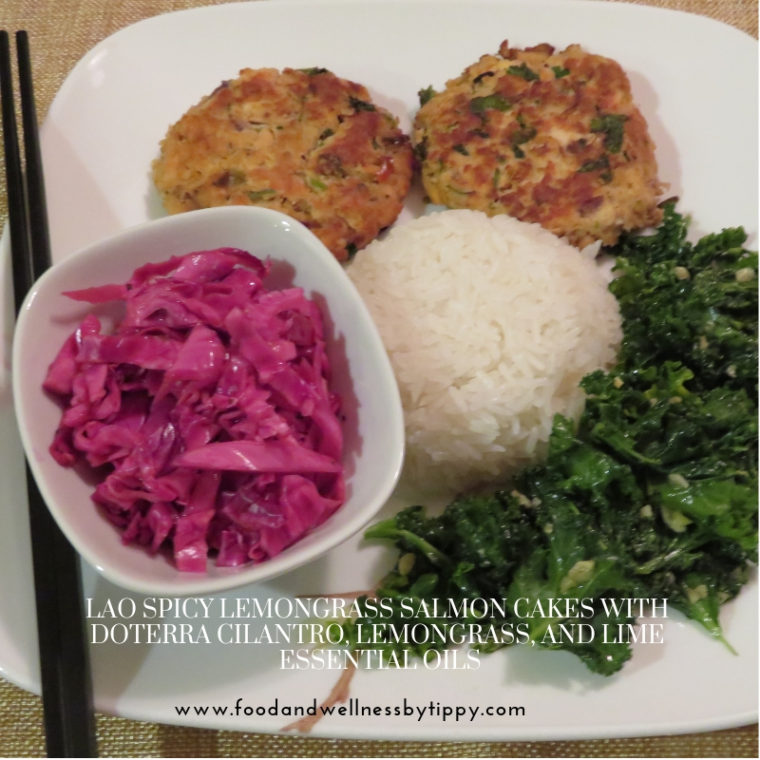 Salmon is one of my favorite fish. I practically cook and eat salmon at least two times per week. Why you ask? Salmon is packed with omega-3 fatty acids. It helps to reduce inflammation and good for the joints. Salmon also has high quality protein and full of B vitamins that our body needs. Studies have shown that by eating salmon regularly, it can also lower blood pressure and reduce the risks of heart disease. Here is a great article about the 11 benefits of salmon written by a registered dietician (https://www.healthline.com/nutrition/11-benefits-of-salmon). Not only do I love eating salmon because of its health benefits, I also like the taste and texture of salmon. It's rich with good fatty oil and cooks quickly. Salmon holds up its texture well in any method of cooking whether it's roasted, baked, sauteed, poached, or grilled.
Salmon can be pricey when purchased fresh from the fish market or at the seafood counter at grocery stores. The only time that I would buy fresh salmon fillets is when it's on sale or when I want to cook a nice salmon meal for entertaining during special occasions. What I usually do is buy a frozen bag with individually wrapped center-cut salmon fillets from wholesale stores like Costco or Sam's Club. The average price for a frozen bag of salmon is approximately between $23.00 to $26.00 at the wholesale stores. When buying salmon, either fresh or frozen, it's important to know where it's sourced from. The frozen salmons that I've purchased indicate on the package that it's been caught from the Atlantic ocean, which has colder temperature water than the Pacific ocean. If you are cooking for one person or two people, the frozen individually wrapped salmon fillets are convenient and make cooking simple. If you cook frozen salmon, it takes about 20-25 minutes. Thawed salmon fillets cook faster and it takes about 12 to 15 minutes oven roasted or baked, which is the method that I cook often.
I had three poached salmon fillets that I previously made and wanted to transform them into salmon cakes instead of just eating them with a lemon and dill sauce. I already had all the ingredients to make Lao style spicy lemongrass salmon cakes. My mom had given me a bag of chopped fresh lemongrass. She knows that it's hard for me to chop the fibrous lemongrass stalk because of my arthritic hands and wrists. I have to admit that I don't cook Southeast Asian cuisine that often, but when I do the ingredients have to be fresh and the dish has to be packed with bold flavors!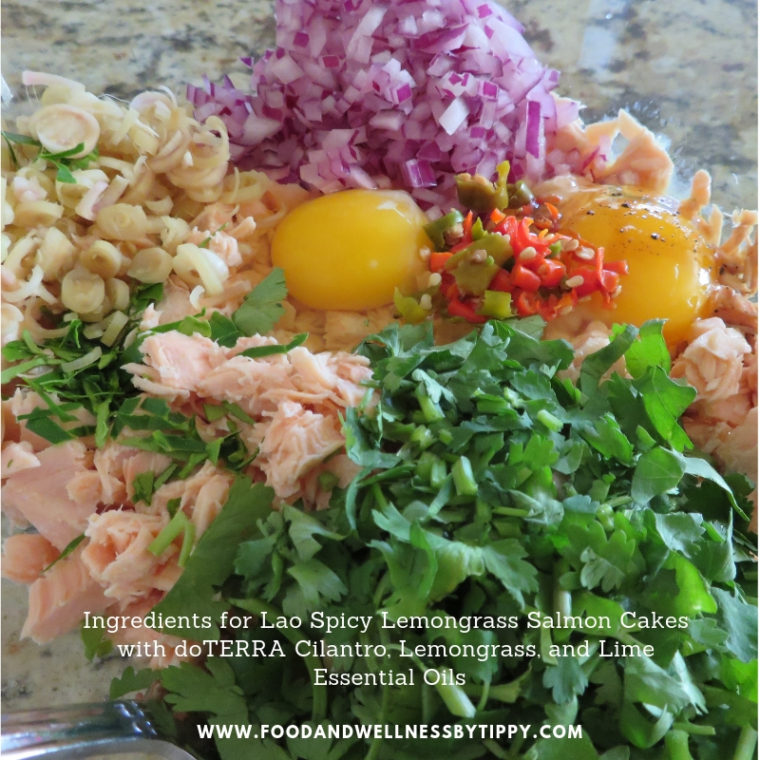 The picture shown above contains all the ingredients used to make the spicy lemongrass salmon cakes. Doesn't the ingredients look wonderfully fresh? I used Southeast Asian ingredients consisting of fresh lemongrass, Kaffir lime leaves, cilantro, red onions, Thai chili peppers, lime juice, and fish sauce. If you don't have fish sauce in your kitchen, you can substitute with kosher salt. Herbs like fresh lemongrass and Kaffir lime leaves are mainly sold at an Asian supermarket, which is where you can buy them if there is one in your local community. My mom has a Kaffir lime tree in her backyard so this makes it convenient to get them fresh. If you are not familiar with what lemongrass and Kaffir lime leaves look like, here is a great article with pictures demonstrating these two Southeast Asian herbs (https://www.thespruceeats.com/kaffir-lime-leaves-overview). What I also did to enhance the flavors was adding doTERRA Cilantro essential oil (https://www.doterra.com/US/en/p/cilantro-oil), Lemongrass essential oil (https://www.doterra.com/US/en/p/lemongrass-oil), and Lime essential oil (https://www.doterra.com/US/en/p/lime-oil). The added essential oils gave these salmon cakes another layer of rich flavors, which I love!
I shared the salmon cakes with my family and they loved it! It was so spicy, which was even better because we are accustomed to eating extremely spicy food. I served the salmon cakes with steamed Jasmine rice, sauteed curly kale with garlic, and a side of my homemade pickled purple cabbage. Here is the recipe for the pickled purple cabbage in case you want to make them (https://foodandwellnessbytippy.com/homemade-pickled-purple-cabbage-with-doterra-basil-dill-and-black-pepper-essential-oils/). I hope you enjoy making the salmon cakes! I would love to hear your thoughts, so please provide a comment once you have made them.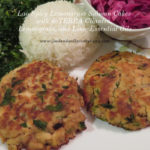 Lao Spicy Lemongrass Salmon Cakes with doTERRA Cilantro, Lemongrass, and Lime Essential Oils
Ingredients
3 –

6 oz. each (18 oz. total)

Fillets of Poached Salmon

(or use 1 – 16 oz. canned salmon)

1/4

cup

Coursely Chopped Fresh Cilantro (both leaves and stems)

3

tbsp

Finely Chopped Red Onions

2

tbsp

Finely Chopped Fresh Lemongrass

1

tbsp

Finely Chopped Fresh Kaffir Lime Leaves

2-3

Fresh Thai Chili Peppers, Finely Chopped

2

tbsp

Fresh Lime Juice

1

tsp

Fish Sauce or Kosher Salt

2

Large Eggs

3/4

cup

Gluten-Free Plain Bread Crumbs

3

drops

doTERRA Lime Essential Oil

2

drops

doTERRA Cilantro Essential Oil

1

drop

doTERRA Lemongrass Essential Oil

3

tbsp

Canola or Vegetable Oil
Instructions
In a medium bowl, flake the salmon fillets. Then add the cilantro, red onion, lemongrass, Kefir lime leaves, chili peppers, lime juice, fish sauce, eggs, essential oils, and bread crumbs. Mix the salmon mixture until combined.


Form the mixture into 6 firmly packed patties, about 1/2 inch thick per patty.


Heat canola oil in a large skillet over medium heat. When the oil is hot, add the patties and cook for 4 minutes per side or until golden brown.