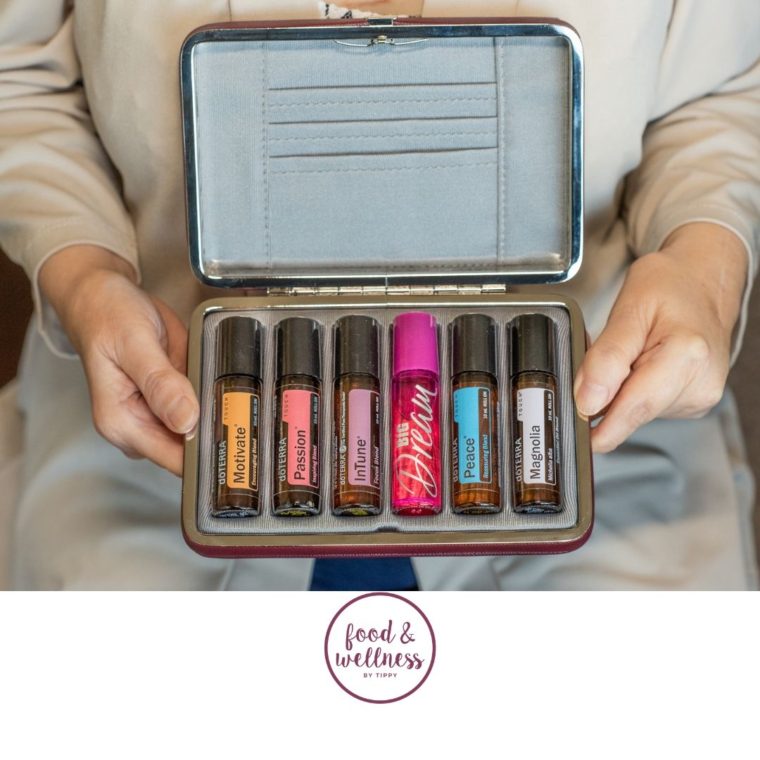 Have you ever wondered what essential oils I use during the course of the day, especially when I am working on a project that requires me to put on my critical thinking cap? First, let me share with you what I used to do before I knew anything about doTERRA essential oils. When I was working full-time as a Social Worker, I used to drink 2-3 cups of coffee a day just to stay alert and be able to get the tasks of my job done. Many people drink caffeinated beverages these days and Starbucks coffee shops are practically everywhere in our communities. Even though I knew that too much coffee consumption wasn't good for my health, I continued drinking it and I still do to this day, but I limit it to only 1 cup a day. I used to drink a cup of coffee at home in the morning before heading out to work. Then I would pour another cup of coffee at work and took sips at my desk during the late mornings. On stressful days when I had to deal with difficult cases and needed to complete a big stack of paperwork, I would head to the coffee bar and pour myself another cup of coffee. When I was out on home visits working with clients, I usually stop by Starbucks to get either a frappacino or cafe mocha. Since caffeine is a stimulant, it was the only thing that I knew at the time that helped me with concentration so that I could focus on getting my work done before the end of the day.
July 2019 marked my 3rd anniversary being a doTERRA Wellness Advocate. I am so grateful that I discovered doTERRA essential oils and it has changed my life for the better. During the past few years, I've removed plenty of toxins from my home and replaced cleaning supplies with do-it-yourself (diy) cleaners using doTERRA essential oils, cook with essential oils, and doing everything that I can to boost my immunity. If you are an avid doTERRA user like me, you know how natural solutions have changed the way we take care of our mind, body, and spirit. This leads me to discuss the roller touch oils that I carry in my handy clutch.
The essential oils roller touch storage clutch is part of my daily essentials. The roller touch are convenient to use because the oils are diluted with fractionated coconut oil. All you have to do is apply the desired oils on the targeted areas of the body such as the brain stem located on the back of the lower neck area, behind the ears, on the temples, over the heart area, and on the pulse point of the inner wrists, including the bottom of the feet. Depending on your situation and your mental well-being, you can reapply the oils as needed every 3-4 hours throughout the day.
doTERRA Motivate Touch (Encouraging Blend), https://www.doterra.com/US/en/p/doterra-motivate-touch-encouraging-blend-oil, is my go-to when I've lost the motivation to complete my tasks or important projects. I'm sure all of us have had that pessimistic feeling like we don't want to do anything. This essential oil blend promotes feelings of confidence, courage, and belief by counteracting negative emotions such as doubt and pessimism. This blend consists of Fractionated Coconut Oil, Peppermint Plant, Clementine Peel, Coriander Seed, Basil Herb, Yuzu Peel, Melissa Leaf, Rosemary Leaf, and Vanilla Bean Absolute.
doTERRA Passion Touch (Inspiring Blend), https://www.doterra.com/US/en/p/doterra-passion-touch-inspiring-blend-oil, is the oil that I reach for when I feel like I've lost my creative juices and sink to being disinterested in a project. Many times I've felt like I simply can't continue with a task that I started because of negative thoughts holding me back or not feeling well health wise. For example, some of my doTERRA friends and team members know that I've been working on completing a cookbook for the past 2 years and can't seem to feel the passion to work on it daily until recently when my creative juices were overflowing in my brain. I use this blend daily before I sit down in front of the computer to work on the cookbook designs and contents. This essential oil blend ignites feelings of excitement, passion, and joy by counteracting negative feelings of boredom and disinterest. This blend is made with Fractionated Coconut Oil, Cardamom Seed, Cinnamon Bark, Ginger Root, Clove Bud, Sandalwood Wood, Jasmine Flower Absolute, Vanilla Bean Absolute, and Damiana Leaf.
doTERRA InTune (Focus Blend), https://www.doterra.com/US/en/p/in-tune-oil , is my absolute must-have's as I apply it liberally on the temples and on the back of my lower neck to help me stay focused as I tend to get distracted easily during the course of the day. InTune is great for both adults and children, especially school-aged children who may have attention deficits. This unique blend's primary benefit is to enhance and sustain a sense of focus. It also helps calm the nerves while promoting relaxation. It's a great oil to use during study time at home and at school. This blend consists of Amyris Bark, Patchouli Leaf, Frankincense Resin, Lime Peel, Ylang Ylang Flower, Hawaiian Sandalwood Wood, and Roman Chamomile Flower essential oils.
doTERRA Peace Touch (Reassuring Blend), https://www.doterra.com/US/en/p/doterra-peace-touch-reassuring-blend-oil, is one of my most used essential oil blend from the emotional aromatherapy collection. Whenever I feel anxious or need contentment, this is my oil to apply topically on the temples, the back of the lower neck, and over the heart area. This blend promotes feelings of peace, reassurance, and contentment by counteracting anxious and fearful emotions. This is the oil that I would use when I feel anxious about giving a speech in front of a large audience group. This blend consists of Fractionated Coconut Oil, Vetiver Root, Lavender Plant, Ylang Ylang Flower, Frankincense Resin, Clary Sage Flower/Leaf, Marjoram Leaf, Labdanum Leaf/Stalk, and Spearmint Herb.
doTERRA Magnolia Touch, https://www.doterra.com/US/en/p/doterra-magnolia-touch, is an essential oil that I use to help my mind and body relax, especially when dealing with intense situations. It's known to uplift the mood. Magnolia is a powerful flower that has been used in Chinese traditional health practices for over hundreds of years. It has a fresh, sweet, floral aroma that I love and often use it as my natural fragrance (I don't use chemically made perfumes anymore). Besides its ability to help ease emotional tension and anxious feelings, this oil may also help sooth the skin by promoting a clean, healthy looking facial skin. You can apply the oil on clean facial skin before applying a facial moisturizer.
The "Big Dream" roller bottle was a DIY gift from our doTERRA diamond leader when I was at the 2018 doTERRA global convention. Even though it's been close to a year since I received the Big Dream essential oil blend, I use it sparingly to remind me of my own big dreams! The convention theme was called Dream as the international company celebrated their 10th year anniversary. Can you believe it that there are more than 7 million members in the U.S. market alone! As of right now, the numbers are nearing 8 million as more and more people are realizing the true powers of natural remedies with the daily use of doTERRA essential oils and supplements.
Please keep in mind that the information provided in this post are based on my personal experiences with using the oils. Most of the information about each product have been researched by doTERRA's team of experts. *Disclaimer: These products are not intended to diagnose, treat, cure, or prevent any disease or mental condition. As always, please consult with a physician prior to using any natural remedies.