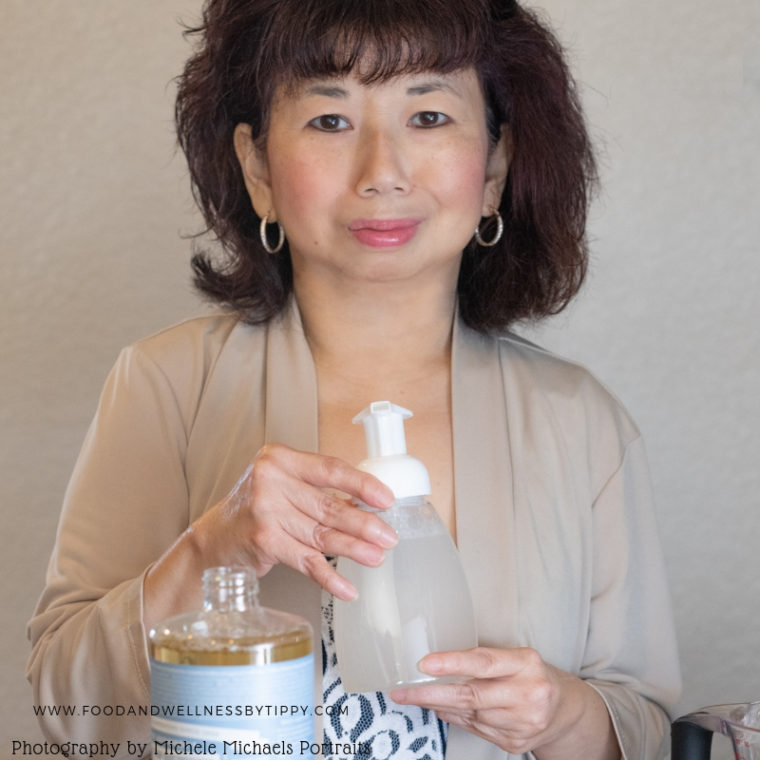 Do you like to make natural foaming hand soaps using unscented Castile soap and certified pure therapeutic grade essential oils? If the answer is YES, then you will like my do-it-yourself recipe. Making your own foaming hand soap is simple, good for the environment, and is cost effective. This is also a great way to eliminate household toxins by using natural ingredients. As a doTERRA Wellness Advocate, I believe in the power of essential oils because of its ability to purify and cleanse dirt, eliminate germs, and anything that we may have touched from our hands. There are so many essential oil blends that you can use for the foaming hand soap. I like to mix a combination of essential oils that not only smell refreshingly wonderful, but can also do its job to clean and moisturize the skin.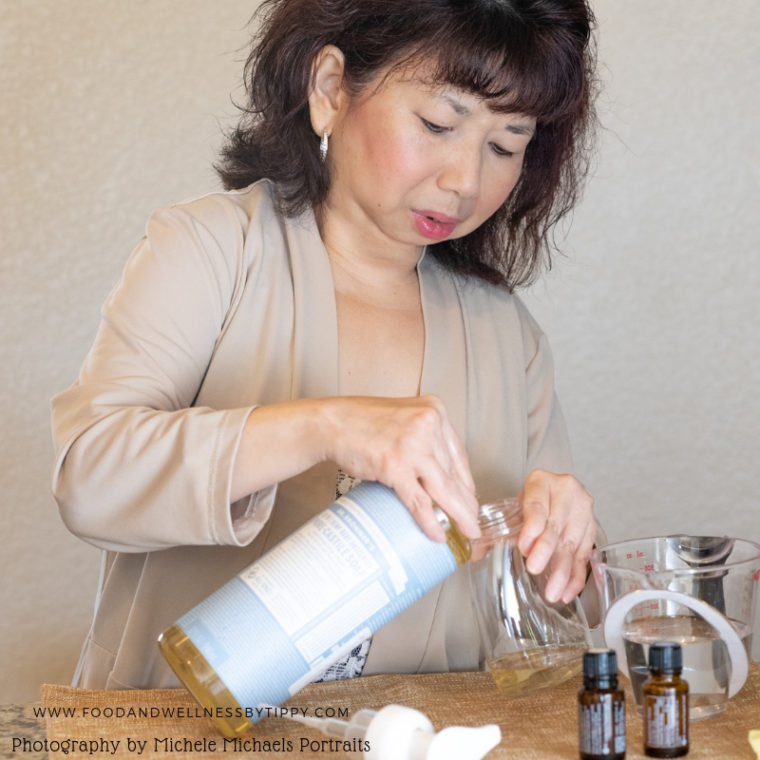 Here are items that you will need to make this foaming hand soap. I purchased Dr. Bronner's unscented pure Castile soap in a 32 fluid ounce bottle from Amazon for $15.99, which is a good deal. This large bottle will last for a while. I also bought the plastic foaming soap bottles with dispenser pumps that come in a pack of 3 for $8.95. Each bottle is 8.5 oz and are available on Amazon. Can you tell that I'm a big Amazon shopper?! As an Amazon Prime member, I receive 2-days free shipping on most products. These foaming soap bottles are suggested to be used with Dr. Bronner's Castile liquid soap. The two doTERRA essential oils that I used are, Purify (https://www.doterra.com/US/en/p/purify-oil)
and Peppermint (https://www.doterra.com/US/en/p/peppermint-oil). Purify essential oil is a cleansing blend made with a combination of citrus and herb oils along with Siberian Fir and Melaleuca (Tea Tree) essential oils. Purify makes a great cleaner for the home and can eliminate unwanted pet odor, cigarette smoke and much more. Peppermint essential oil naturally repels bugs and has a refreshing minty aroma. It also energizes the senses. These two essential oils combined make a great smelling foaming hand soap.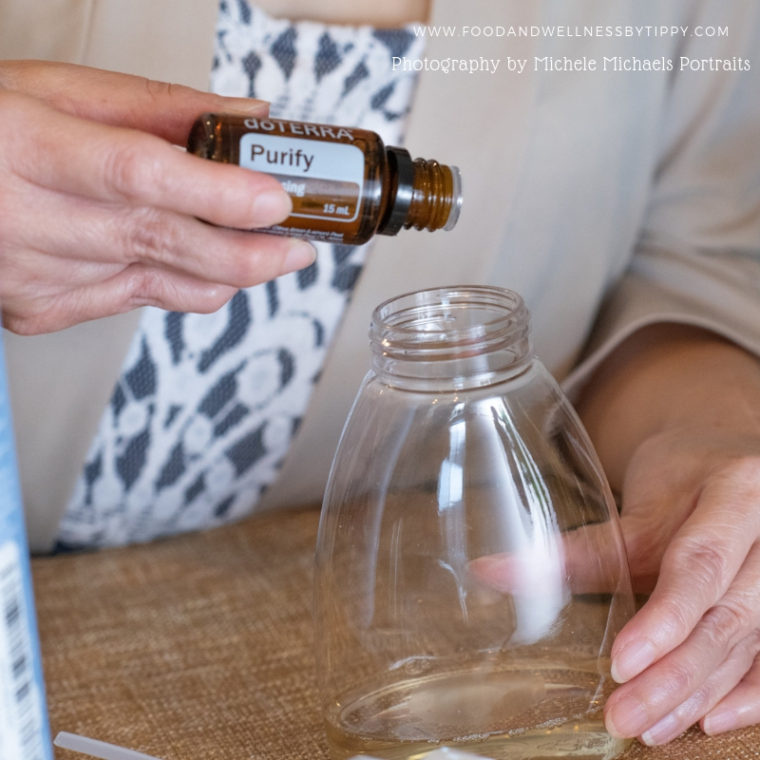 The first step is to add 1/3 cup Castile liquid soap into the plastic foaming hand soap bottle. Then add 8 drops of doTERRA Purify essential oil.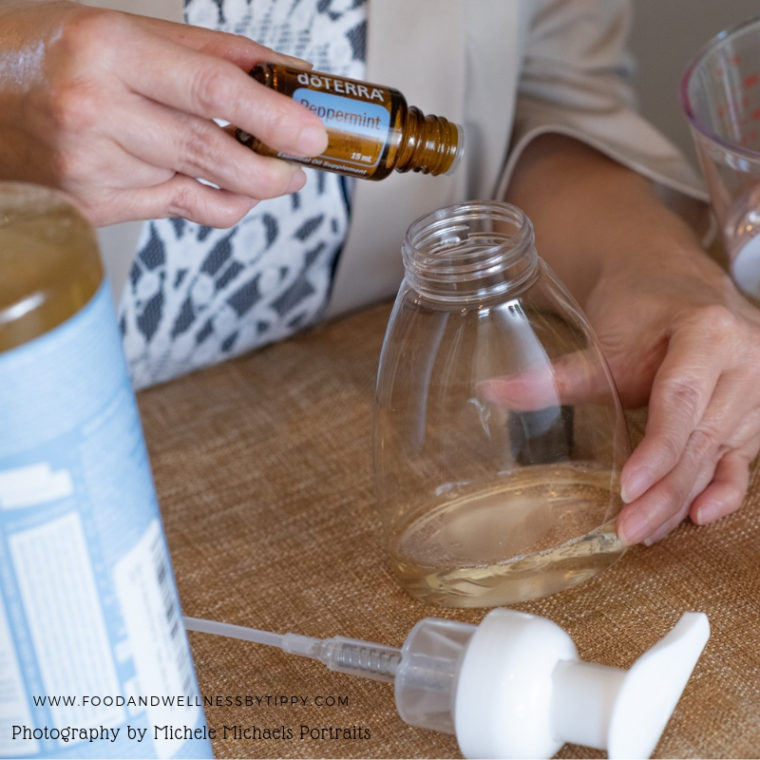 Next, add 4 drops of doTERRA Peppermint essential oil to the Castile liquid soap.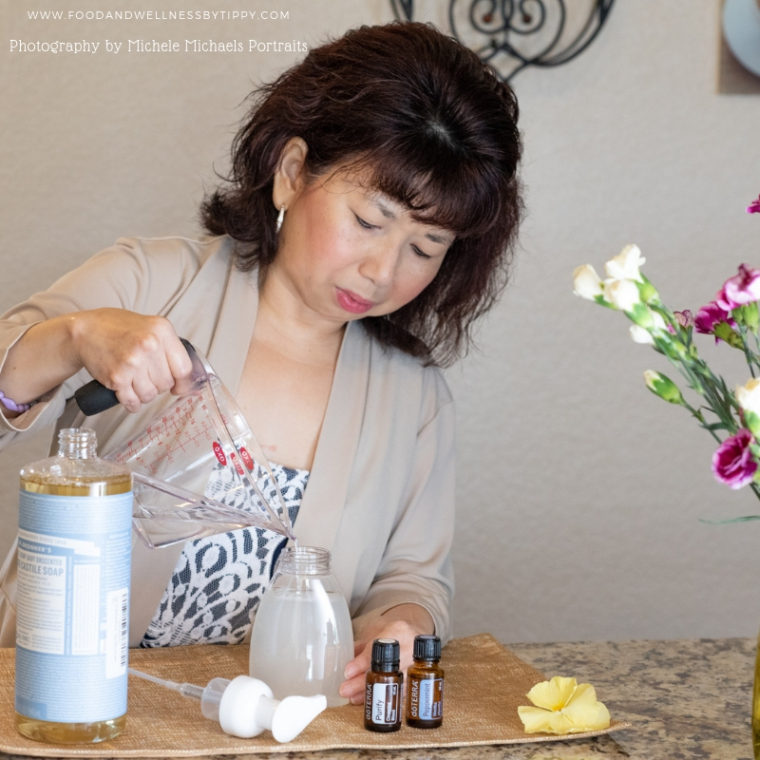 Finally, add about 1 cup of filtered water to the Castile liquid soap mixture. Put on the dispensing pump and gently shake the bottle to combine the soap and essential oils mixture.
After completing the foaming hand soap, I tested the soap by washing my hands at the sink. This way, you can decide if the scent from the essential oils is the right amount or if it may need a few more drops of essential oils. For this 8.5 fluid ounce bottle, a total of 12 drops of essential oils and 1/3 cup of Castile liquid soap blend perfectly with the 1 cup of filtered water. If you are a doTERRA essential oil user, On Guard (https://www.doterra.com/US/en/p/on-guard-oil) is another excellent essential oil to add to the foaming hand soap. Just add 12 drops of On Guard (Protective Blend) to the Castile liquid soap and top off with filtered water. You can get creative and use a combination of citrus oils with herb oils. For calming and uplifting effects, use Lavender essential oil (https://www.doterra.com/US/en/p/lavender-oil) with Lemon essential oil (https://www.doterra.com/US/en/p/lemon-oil). Lavender essential oil soothes skin irritations and promotes relaxation, while the Lemon essential oil cleanses and purifies the skin. I hope you will try making this simple and safe foaming hand soap! I would love to hear your feedback. Please be sure to write your review in the "comment" box below.