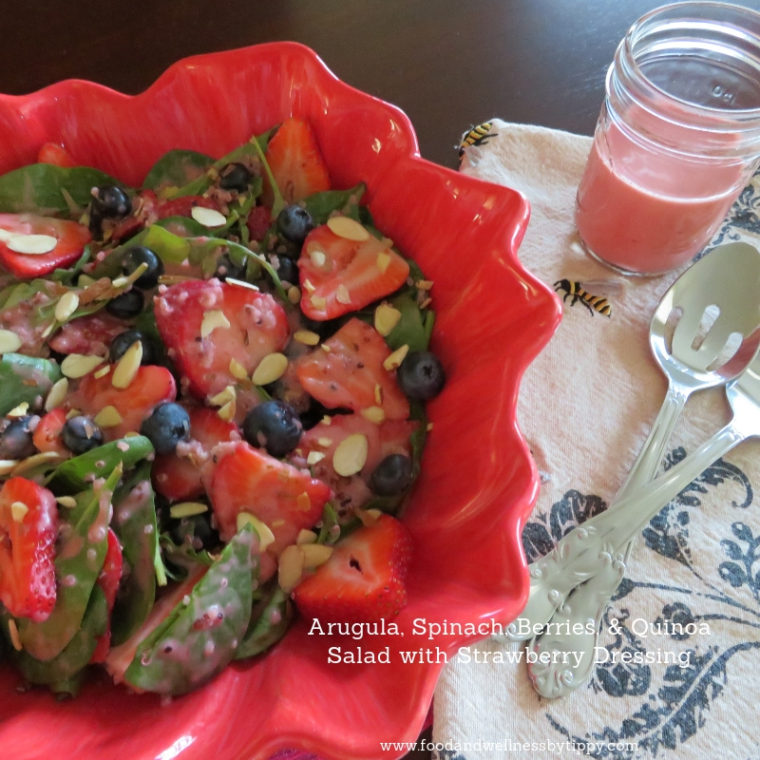 This salad is perfect for spring and summer, especially when fresh berries are in season! Who doesn't love strawberries and blueberries right?! My family, especially my nieces and nephew love fresh fruits. Combining fresh berries with mixed greens and quinoa is a great way to encourage young children (particularly the picky eaters) to eat fresh salad. Best of all, this salad is both vegan and gluten-free. Since the dressing is made with non-dairy ingredients, this salad would make a perfect potluck side for summer outdoor dining or picnic at the park and it won't spoil easily.
The addition of quinoa gives this refreshingly delicious salad texture and body. Quinoa also provides a great source of plant-based protein and fiber. Spinach has a good source of iron. The arugula has a peppery taste and gives this salad added flavor. Strawberries and blueberries are anti-inflammatory, including the spinach. This is why I love making and eating this salad because it's good for my body.
I love that this dressing has a vibrant pink color and brightens up the salad while giving it a packed refreshing flavor. The dressing can be made a day in advance and refrigerated until ready to use. If you are a doTERRA member or user, I'm sure you have a bottle of lemon essential oil that you can add to the dressing. DoTERRA's Lemon essential oil, https://www.doterra.com/US/en/p/lemon-oil, has a clean, fresh, citrus, and bright aroma. It's completely safe to take internally. Lemon essential oil is added to food to enhance the flavor of desserts and main dishes. If you don't have doTERRA Lemon essential oil, you can grate the zest from one lemon and add it to the dressing.
I hope you make this recipe during this time of the year, especially those who live in Central California when fresh strawberries are abundant at the farmers market. Let me know how you like this salad and be sure to leave a rating and comments. Happy healthy eats!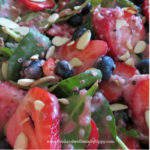 Arugula, Spinach, Berries, & Quinoa Salad with Strawberry Dressing
Ingredients
For Salad Portion
5

oz.

container of mixed organic baby arugula and spinach

6

oz.

container of organic fresh blueberries

1 1/2

cups

organic fresh strawberries, hulled and sliced

1

cup

cooked organic white quinoa

1

tbsp

toasted sliced almonds
For Strawberry Dressing with doTERRA Lemon Essential Oil
1/2

cup

organic fresh strawberries, hulled and halved

5

oz.

container of So Delicious brand unsweetened plain coconut milk yogurt

1

tbsp

Dijon mustard

1

tbsp

raw apple cider vinegar

1

tbsp

raw cane sugar

(or raw, unfiltered honey for non-vegan)

1/4

tsp

Kosher salt

1/4

tsp

ground white pepper

4

drops

doTERRA Lemon essential oil

(or grated zest of 1 lemon)
Instructions
For Salad Portion
Cook the quinoa according to package instructions and set aside to cool completely.

Using a salad serving bowl or platter, add the quinoa, arugula and spinach mix, strawberries and blueberries. Garnish the salad with sliced almonds right before serving.

Set the salad aside and prepare the dressing.
For the Strawberry Dressing
Put all of the dressing ingredients, except the lemon essential oil or lemon zest, in a blender and blend on high speed until strawberries are well blended and become a nice pink pureed mixture.

Pour the dressing into a small bowl or glass Mason jar.





Then add the lemon essential oil or lemon zest to the dressing and stir until combined. Dressing yields 1 cup.





Use ½ cup of dressing to toss with the salad and
serve the remainder of dressing on the side.