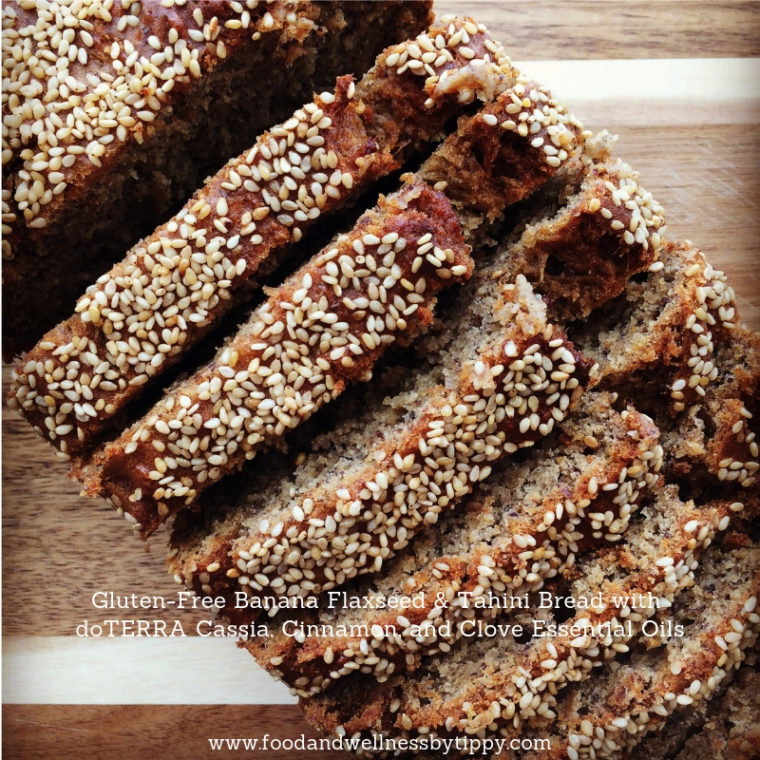 Let me share with you how I came about making this Gluten-Free Banana Flaxseed & Tahini Bread with doTERRA Cassia, Cinnamon, and Clove Essential Oils. For subscribers of my blog, you will notice that I use bananas often in baked goods. I have posted recipes on banana spinach muffins, banana carrot muffins, and banana spinach pancakes. You can say that I love incorporating bananas into my diet. I always include bananas on my grocery shopping list. Bananas are staple fruits in my household not just because I love them so much, it's also because bananas have a good source of potassium and other nutritional benefits. I had several bananas that were very ripe and I needed to do something with them. I had wanted to make banana bread for quite sometime, but didn't have the time to spend baking. I had a doTERRA class scheduled and was preparing for refreshments to serve to the class participants. Then the idea of making this bread popped into my head! I had all the ingredients so I started writing the recipe and headed to the kitchen to bake!
I recently started using ground flaxseed because of its nutritional benefits. I've been adding them to my yogurt, oatmeal, and smoothies, but haven't used it in baking yet. When you buy flaxseed or chia seeds, make sure that it's a brand that you trust. Bob's Red Mill brand gluten-free flour, almond flour, and ground flaxseed are what I purchase frequently. Similar to chia seeds, flaxseed has an excellent source of Omega-3 fatty acids that are considered as good fats. Omega-3 fatty acids promote heart health. Flaxseed meal also provides fiber and can help regulate cholesterol. If you can't find Bob's Red Mill ground flaxseed meal at your local grocery stores, you can purchase it online directly from the company at https://www.bobsredmill.com/flaxseed-meal.html.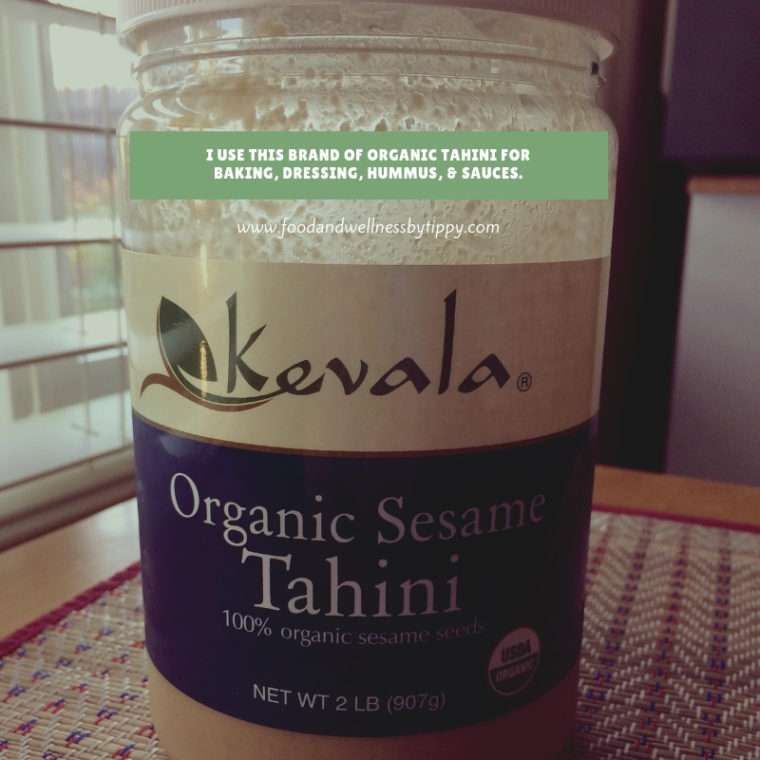 The other star ingredient in this bread is tahini paste. To be honest, I didn't know anything about tahini or have used it in cooking until 3 1/2 years ago when I started learning about healthy cooking using quality ingredients. For anyone who enjoys Mediterranean food, tahini is used in most recipes like hummus, baba ghanoush, sauces, and dressings. When I learned to make my own hummus at home I fell in love with using tahini paste in other recipes! While tahini has good nutritional benefits, it does have a high content of fat and calories. It is suggested that tahini should be eaten in moderation. What drew me to using tahini regularly in cooking and baking is because of its ability to help reduce arthritis pain while promoting bone health. To learn more about the nutritional benefits of tahini, check out this online article at https://www.medicalnewstoday.com/articles/298585.php.
If you have read my blog posts on recipes, you already have an idea that I incorporate doTERRA essential oils in cooking and baking. For this bread recipe, I used a combination of Cassia essential oil (https://www.doterra.com/US/en/p/cassia-oil), Cinnamon Bark essential oil ( https://www.doterra.com/US/en/p/cinnamon-bark-oil), and Clove essential oil (https://www.doterra.com/US/en/p/clove-oil). Since the recipe calls for ground cinnamon and ground clove, the addition of the three spice essential oils elevate the flavor profile. Most of us are familiar with cinnamon and clove spices, but may not know much about cassia. As a matter of fact, cassia is not available as a ground dry spice. Cassia is related to the cinnamon family and has a warm, spicy aroma similar to cinnamon. This essential oil promotes healthy digestion when taken internally. As a general rule, be cautious about what brand essential oils you are using because not all are created equally. If a bottle of spice essential oil doesn't have a supplement fact on the exterior, then it's not safe to use.
This banana flaxseed and tahini bread is both gluten-free and dairy-free. It's packed with rich and nutty flavors from both the ground flaxseed and creaminess of the tahini paste. The warm spices of cassia, cinnamon, and clove give it a taste of holiday baking. Your home will smell like it's fall baking season! This bread made for a nice afternoon snack for my guests and everyone loved it! I hope you enjoy baking my bread recipe as much as I have. Happy baking!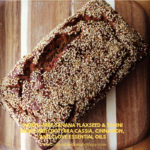 Gluten-Free Banana Flaxseed & Tahini Bread with doTERRA Cassia, Cinnamon, and Clove Essential Oils
Cook Time
1
hour
15
minutes
Total Time
1
hour
35
minutes
Ingredients
Nonstick cooking spray for the bread pan

2

cups

Bob's Red Mill Gluten-Free 1-to-1 baking flour

1

tsp

baking powder

1

tsp

baking soda

1

tsp

kosher salt

1

tsp

ground cinnamon

1

tsp

ground clove

1/4

cup

Bob's Red Mill ground flaxseed meal

3/4

cup

organic coconut sugar

2

large

eggs

2/3

cup

organic tahini paste

1/2

cup

extra-virgin olive oil

1 1/2

tsp

pure vanilla extract

3

drops

doTERRA Cassia essential oil

2

drops

doTERRA Cinnamon essential oil

2

drops

doTERRA Clove essential oil

4

ripe bananas, peeled and mashed

2

tsp

toasted white sesame seeds
Instructions
Preheat the oven to 325 degrees Fahrenheit. Then spray a 9-by-5 inch loaf pan with cooking spray.


In a medium bowl, combine the flour, baking powder, baking soda, kosher salt, ground cinnamon, ground clove, and flaxseed meal. Whisk the dry ingredients until combined. Set aside.


Using the bowl of an electric mixer, add the coconut sugar, eggs, tahini paste, olive oil, vanilla extract, doTERRA Cassia, Cinnamon, and Clove essential oils. With the paddle attachment fitted to the electric mixer, beat on medium speed until creamy, for about 3 to 4 minutes. Turn the speed to low and add the mashed bananas. Continue mixing for another 2 minutes until combined.


While the mixer is still on low speed, add the flour mixture in 3 batches, ensuring that it's thoroughly combined after each addition.


Turn the mixer off and pour the batter into the prepared loaf pan. Gently shake the pan to make sure that the batter is evenly distributed. Then sprinkle the sesame seeds on top of the batter, making sure that it covers every surface of the batter.


Bake until the bread is really golden brown for about 1 hour and 15 minutes or when a skewer inserted into the center of the bread comes out clean or with some moist crumbs clinging to the skewer.


When done, remove from the oven and let cool in the pan for 20 minutes. Then remove the bread to a wire rack to rest and cool completely, about 40-45 minutes.


After the bread has cooled completely, slice and serve warm or at room temperature. Store any remaining bread in a covered container and refrigerate.