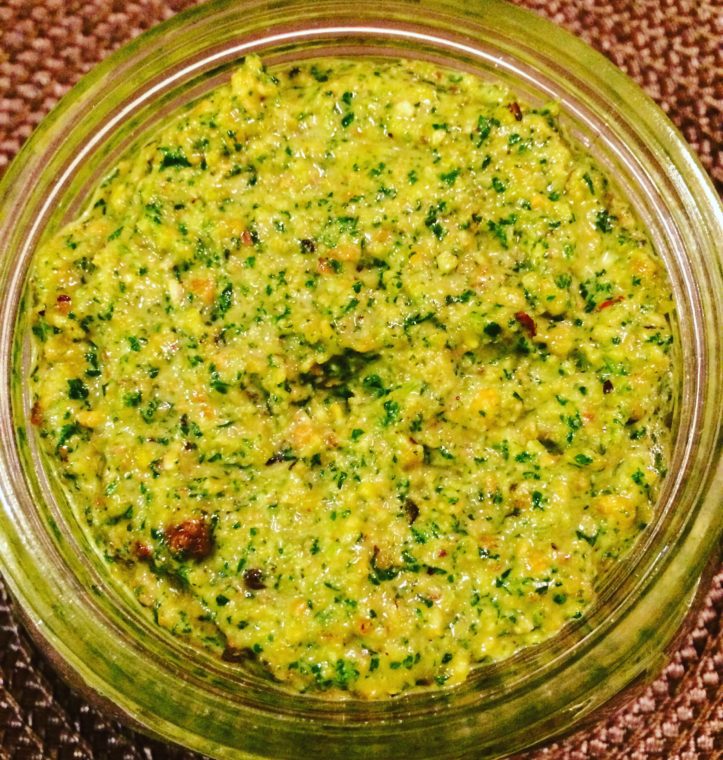 Growing up as a second generation Southeast Asian, my family and I are accustomed to eating lots of fresh herbs like cilantro, mint, garlic, and other spices, including chili peppers in most dishes. Typically, pesto is not something that Southeast Asians make because it's not part of our cultural cuisine. We do have many homemade sauces that are used as condiments. Since I grew up in America, we have learned to appreciate the diverse cuisines that make up the cultural diversity of this country. I enjoy cooking different types of food in my home kitchen, especially developing healthy and nutritious recipes. I happened to have fresh cilantro and mint in the refrigerator that needed to be consumed. I also had a bag of pistachios in the pantry along with garlic bulbs. So why not make pesto using these main ingredients and the essential oils that I use for cooking. So the idea of creating this vegan pesto came to my mind. As you know, the traditional pesto has Parmesan cheese. I love pistachios and combining it in this pesto gave the herb mixture a nutty and creamy flavor and texture. The end result is absolutely delicious!
If you are a doTERRA essential oil user and have a collection of oils that you use in cooking, these oils definitely enhance the overall flavors of dishes as well as providing health benefits. For this pesto, I selected the cilantro, lime, and pink pepper essential oils as they enhanced the flavor profile of the pesto. Cilantro essential oil (https://www.doterra.com/US/en/p/cilantro-oil) has a refreshing aroma and is very potent. Lime essential oil (https://www.doterra.com/US/en/p/lime-oil) gives the pesto the fresh lime zest flavor. The pink pepper essential oil (https://www.doterra.com/US/en/p/doterra-pink-pepper) provides the pesto a spicy, fruity, and floral aroma. As a matter of fact, pink pepper essential oil pairs nicely with the flavor of the pistachio. At least I think it does!
This pesto is so versatile. You can use it to dress cooked steak, pork chops, chicken, and even fish like salmon, halibut, and cod. It's also great as a spread on sandwiches, mixed in with steamed Jasmine rice, cooked quinoa, and pastas. The great thing about pesto is that you can make a big batch at one time and freeze it for later use. When you're ready to use it, simply thaw the pesto and mix in with your desired dishes. I hope you enjoy this pesto recipe as much as I have!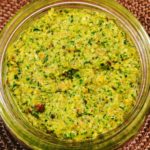 Vegan Cilantro Mint & Pistachio Pesto with doTERRA Cilantro, Lime, and Pink Pepper Essential Oils
Ingredients
1

Bunch

Fresh Organic Cilantro (using both leaves & stems)

1

Bunch

Fresh Organic Mint (using leaves & soft stems)

3

Garlic Cloves, Sliced

3/4

Cup

Toasted Pistachios

1/2

Tsp

Sea Salt

1/2

Tsp

Ground Black Pepper

1/4

Tsp

Dried Chili Flakes

1/4

Cup

Raw Apple Cider Vinegar

1/3

Cup

Extra-Virgin Olive Oil

4

Drops

doTERRA Lime Essential Oil

3

Drops

doTERRA Cilantro Essential Oil

2

Drops

doTERRA Pink Pepper Essential Oil
Instructions
Prepare all the ingredients. Rinse and completely pat dry the cilantro and mint herbs.


Using a food processor, add the cilantro, mint, garlic, pistachios, salt, black pepper, chili flakes, and apple cider vinegar to the food processor bowl.


Pulse until the herb mixture is processed. Stop to scrape down the mixture from the side of the food processor bowl. Then add the Lime, Cilantro, and Pink Pepper essential oils. Continue to process on low speed. While the food processor is running, slowly add the olive oil through the stream top of the food processor. Continue processing until the pesto reaches a desired consistency.


Transfer the pesto into an airtight container with a lid like a Mason jar. Since the pesto yields 1 1/2 cups, I was able to store it in an 8 oz. Mason jar and the remaining 1/2 cup in a 4 oz. Mason jar. If not using right away, the pesto can be refrigerated for up to 1-2 weeks. You can also freeze them if needed.