Lately, I've been thinking and processing where my life is at during the present moment and how did I get here. No, I'm not talking about the various stages of human life. I'm reflecting on the past three years of my life and how my personal relationships with people have changed. You see, I had a wonderful marriage until all hell broke loose in 2015 when certain people played this silly game called "victimization." Their manipulation, immaturity, and jealousy became their power. I've always stood my ground and knew exactly what they were doing, but I would never allow them to destroy my self-worth. Despite my true actions and wanting to change the circumstances for the better, I didn't get the moral and emotional support that I needed at the time. This family drama could have been repaired through counseling and therapy, but instead it lead to my separation. The focal point of this post is about personal growth through transformation and change.
According to the Merriam-Webster dictionary, metamorphosis means a major change in the appearance or character of someone or something. The other definition is the process of great and usually rather sudden change in the form and habits of some animals during transformation from an immature stage (as a caterpillar) to an adult stage (as a butterfly).
When I saw the image of the butterfly with the three specific years, it reminded me that my life was exactly as it depicted.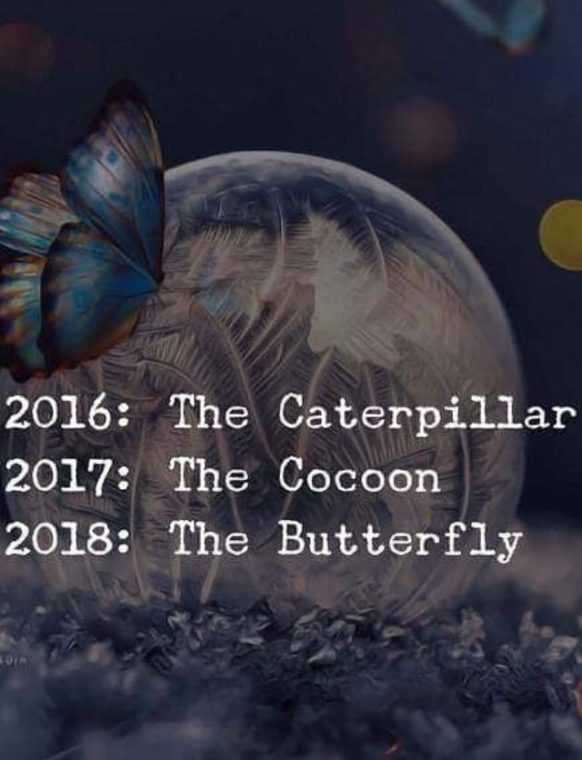 My Transformation Through Each of the Three Years
2016 : The Caterpillar ~ I was emotionally and spiritually lost. Life seemed so slow and I was moving at the rate of a caterpillar. I didn't know what my true purpose was and wanted so much for my marriage to work out. I kept plugging along trying my best to take care of myself despite all the challenges with my physical health that year. My emotional and mental stress was high as I dealt with being on long-term disability. I was still coping with the drama and loss from 2015.
2017: The Cocoon ~ This year, I changed from a caterpillar to being in a cocoon. Things were still in limbo and I felt suffocated. I was literally in a state of uncertainty. I couldn't go backwards nor could I move forward. Even though I was in this cocoon like phase, I tried to manage my home and all the responsibilities that are part of being a homeowner. It is financially tough doing everything on my own. I wanted so much to get out of this cocoon phase and break free! I had to make a decision for my future if I am going to get somewhere like transitioning into my happy place and do something that is meaningful. I focused on my passions and evaluated my capabilities. I ended this year with a clearer vision and knew my purpose.
2018: The Butterfly ~ The present year, I broke free from the cocoon and transformed into this colorful butterfly. The butterfly is a fragile living thing. Its wings are delicate and can easily be broken off when injured. Let's look at the life history of the Monarch butterflies. They are strong and migrate thousands of miles each year to their specific destinations while enduring all kinds of atmospheric changes and rough environments.  I want to think myself as the monarch butterfly. My transformation this year has been filled with joy, peace, gratitude, and new beginnings. I have accomplished so much this year while I continue to heal my heavy heart. Self-care is my priority and I started letting go of things that no longer served me purpose. The truth is, unloading my emotional baggage as I move forward with each step has been a process during this journey. I feel like I can take a deep breath and train my mental state to be calm and respond to negativity with kindness and compassion.
Final Thoughts
If you feel like you are stuck in certain situations or circumstances in life, always remember that you have the power to change the outcome. Only you know what you want from life and the legacy that you want to leave behind for your loved ones. Life is hard and the choices that we make can either produce positive or negative consequences.
Here are some powerful quotes and messages that I believe you will appreciate as you go about your personal journey.
Go with the choice that scares you the most, because that's the one that is going to help you grow.

No one builds a legacy by standing still.

I grew to understand that people don't always build walls to keep others out. It's done out of a necessity to protect whatever is left within.

Don't allow someone to make you feel like you're not good enough.

My favorite quote of all times ~ "You will never understand the damage you did to someone until the same thing is done to you. That's why I'm here." – Karma

Rise Above ~ Don't get angry or enraged or insulted. Rise above the bullshit. Flick your light back on and shine it brighter than ever. Fall so deeply in love with your own life that anyone who tried to wrong you becomes a laughable, ridiculous distant, memory.

"Live your life for you not for anyone else. Don't let the fear of being judged, rejected or disliked stop you from being yourself." – Sonya Parker

Stay away from people who can't take responsibility for their actions and who make you feel bad for being angry at them when they do you wrong.

"Transformation is a process, and as life happens there are tons of ups and downs. It's a journey of discovery." —Rick Warren

"Transformation is not five minutes from now; it's a present activity. In this moment you can make a different choice, and it's these small choices and successes that build up over time to help cultivate a healthy self-image and self-esteem." —Jillian Michaels"

"One can choose to go back toward safety or forward toward growth. Growth must be chosen again and again; fear must be overcome again and again." —Abraham Maslow

"There are things I can't force. I must adjust. There are times when the greatest change needed is a change of my viewpoint." —Denis Diderot