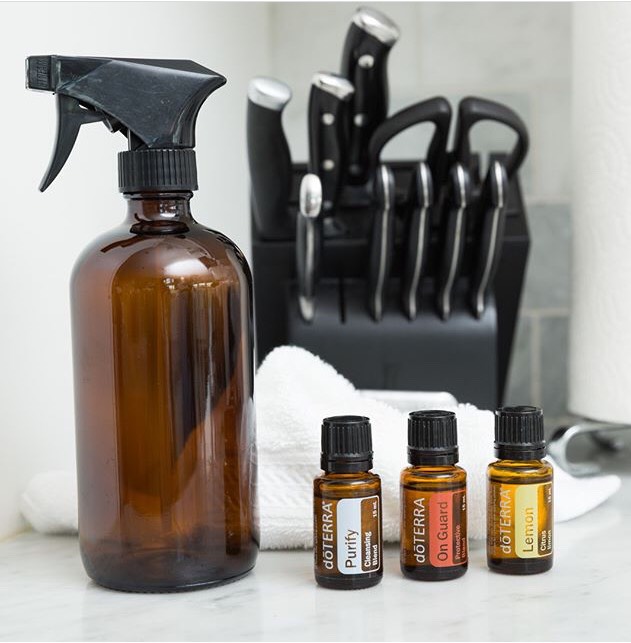 As a doTERRA Wellness Advocate, I have removed chemical cleaning supplies in my home and switched to natural cleaning solutions. Before I started using doTERRA essential oils, I was buying chemical based household cleaners at retail stores like Comet scrub, Clorox bleach spray, Soft Scrub cleaner, Windex glass cleaner, and mildew cleaners. What do all of these cleaners have in common? They are made with harmful bleach to kill bacteria. They also smell terrible during the cleaning process and make breathing difficult! For my health and safety, I no longer use these harsh cleaning supplies and have incorporated all natural cleaning solutions using doTERRA essential oils. They are simple to make and use in everyday cleaning needs. The best part about using essential oils for household cleaning is that they are safe around children and family pets.
Here are the descriptions of each essential oils and their uses
Purify Cleansing Blend ~ This blend has a combination of citrus and fir essential oils that leave an airy, fresh scent on surfaces and in the air. Purify can repel foul odors such as stinky garbage and tobacco smoke. Purify is a blend of Lemon Peel, Siberian Fir Needle, Citronella Grass, Lime Peel, Melaleuca Leaf, and Cilantro Herb essential oils. Purify can be used aromatically and  topically.
On Guard Protective Blend ~ This is a proprietary essential oil blend and provides a natural and effective alternative for immune support. This blend is used to protect against environmental and seasonal threats. On Guard can be used on surfaces throughout the home as a non-toxic cleaner while killing bacteria and germs. This oil has a blend of Wild Orange Peel, Clove Bud, Cinnamon Leaf, Cinnamon Bark, Eucalyptus Leaf, and Rosemary Leaf essential oils. It has a warm, spicy, woody scent. It can be used aromatically, topically, and internally.
Lemon Essential Oil ~ Lemon is a powerful cleansing agent that purifies the air and surfaces. It can be used as a non-toxic cleaner throughout the home. This oil has multiple uses and benefits while providing an uplifting aroma to promote a positive mood. Lemon essential oil can be used aromatically, topically, and internally.
Do It Yourself (DIY) Recipe
In a 16 oz. glass spray bottle, add 10 drops Lemon essential oil, 10 drops Purify essential oil, and 10 drops On Guard essential oil. Then fill the rest of the bottle with water. Gently shake the bottle to mix the oils and water before spraying on surfaces to clean. You can use this cleaning spray on kitchen counters, stove, refrigerator surfaces, microwave, garbage can, and bathroom areas.  This spray can also be used to clean kids toys and play areas.