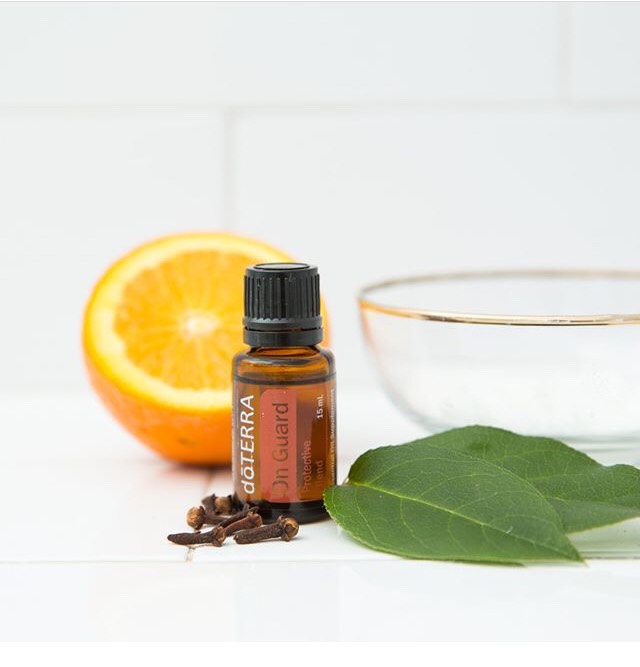 This is another of my favorite non-toxic cleaner using On Guard essential oil as a cleaning mix for the bathroom. Most people don't look forward to the experience of cleaning the bathroom.  On Guard Protective Blend  is a proprietary essential oil blend and provides a natural and effective alternative for immune support. This blend is used to protect against environmental and seasonal threats. On Guard can be used on surfaces throughout the home as a non-toxic cleaner while killing bacteria and germs. This oil has a blend of Wild Orange Peel, Clove Bud, Cinnamon Leaf, Cinnamon Bark, Eucalyptus Leaf, and Rosemary Leaf essential oils. It has a warm, spicy, woody scent. It can be used aromatically, topically, and internally.
For a positive cleaning experience, try combining a safe and effective cleaner with many of the ingredients that you already have at home along with doTERRA essential oils. Here is a simple recipe for a natural bathroom scrub that will make your entire bathroom smell so nice. Using a small glass bowl, combine the following and clean the bathroom sink, toilet bowl, tub/shower surfaces:
3/4 cup baking soda
1/4 cup unscented liquid castile soap
1 tablespoon water
1 tablespoon distilled white vinegar
8-10 drops doTERRA On Guard essential oil
You can double or triple the recipe and store any leftover cleaner in a glass container with a lid. I personally like to use Mason jars to store homemade cleaners. The reason that you need a glass container or jar is that doTERRA essential oils are very potent and will eat through plastic over time.