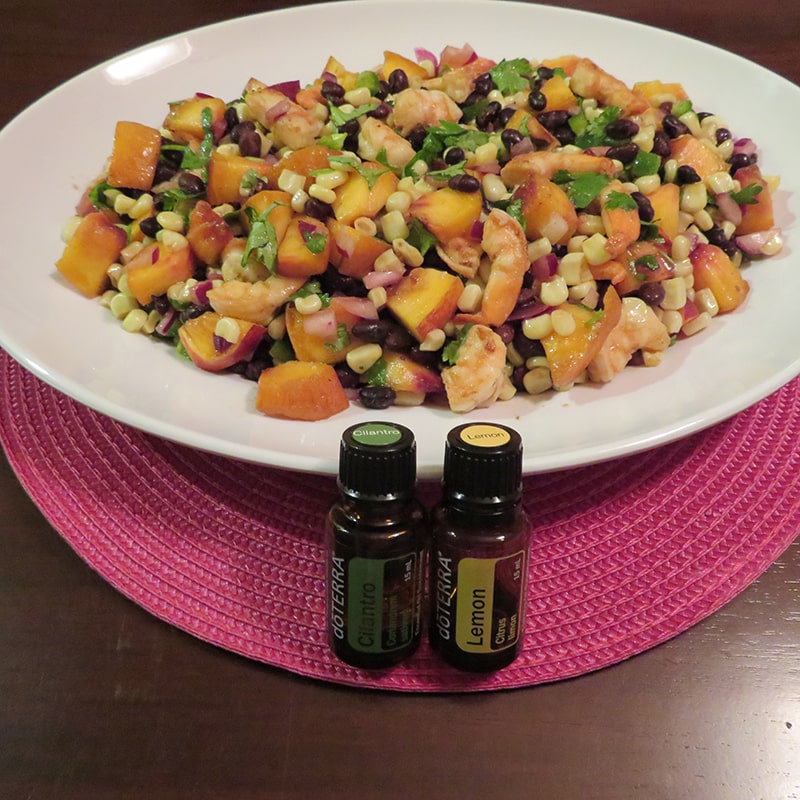 When stone fruits are in season and in abundance during the summer, I like to enjoy them fresh during their peak of ripeness. I really enjoy fresh apricots, peaches, plums, and nectarines. I eat them as my choice for sweet treats. I bought some nectarines earlier last week and ate a few, but had 2 left and they were about to get soft. I had to do something and my creative juices started flowing. I had black beans, frozen sweet white corns, a fresh jalapeño pepper, and red onions. Then I saw a bag of frozen large shrimps in the freezer. My immediate thought was, let's make a spicy black bean, corn, and nectarine salad with shrimp! My family and close friends who have had my home cooking know that I don't follow a recipe. As a doTERRA Wellness Advocate, I've come to appreciate the value and benefits of essential oils. Incorporating essential oils in my home cooking has been a big part of my journey to eating healthy. Essential oils truly enhance culinary flavors and put a zip in any dishes.
I'm calling this dish as my homemade Spicy Black Bean, Corn, & Nectarine Salad with Chipotle Seasoned Shrimp. As an option, you can certainly use fresh corn and fresh shrimp. If you don't want a lot of spicy heat in the salad, you can remove all the seeds and white membrane from the jalapeño pepper. Since this salad was intended to be spicy, I used all of the jalapeño peppers. Besides, I've learned that not all Jalapeño peppers are created equal as some may be spicy hot while others are mild in heat. After making this salad using all the ingredients that I had in stock, it yield a large batch and easily serves 6 people in terms of salad portions. I served this refreshingly sweet and savory salad with gluten-free white bean chips. I would love to know your thoughts and please feel free to comment or send me a message via email.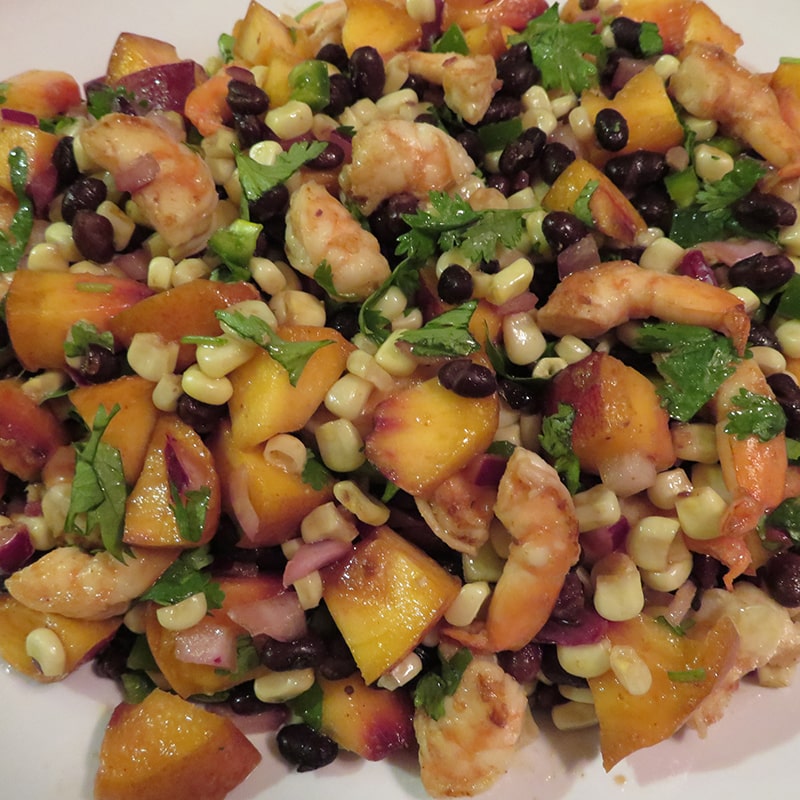 Spicy Black Bean, Corn, & Nectarine Salad with Chipotle Seasoned Shrimp
Ingredients
Ingredients for Salad Part
2

large nectarines, chopped to 1/2 inch thickness

2

cups

frozen sweet white corn, thawed and heated through in microwave

1

15 oz.

can of black beans

½

cup

red onion, finely diced

1

medium fresh jalapeño pepper, finely diced

1/3

cup

cup fresh cilantro (using leaves and stems), chopped, reserve 1 Tbsp. for garnish

½

lb.

(about 20-22 shrimps) frozen large shrimp, thawed, peeled, deveined, and cleaned

1

Tbsp.

extra-virgin olive oil

1

tsp.

ground chipotle chili pepper

½

tsp.

ground pink Himalayan sea salt

2

garlic cloves, finely minced
Ingredients for Dressing
¼

cup

extra-virgin olive oil

Juice of 1 lemon

1

garlic clove grated

1

tsp.

ground pink Himalayan sea salt

½

tsp.

ground chipotle chili pepper

½

tsp.

raw, unfiltered honey

2

drops

doTERRA Cilantro essential oil

2

drops

doTERRA Lemon essential oil (or grated zest from the lemon)
Instructions
Place the prepared shrimp in a medium bowl and add ½ Tbsp. extra-virgin olive oil, ground chipotle chili pepper, sea salt, and minced garlic. Mix the shrimp with the seasoning until evenly coated. In a medium sauté pan over medium-high heat, drizzle ½ Tbsp. extra-virgin olive oil to the heated pan and add all the shrimps. Sear the shrimps for about 2-3 minutes on each side until they are opaque and pink. Be mindful not to overcook the shrimps or they will become rubbery. Transfer the cooked shrimp to a plate and set aside to allow them to cool down before chopping each shrimp in half. While shrimp is cooling, prepare the salad ingredients and add to a large mixing bowl. In a small ceramic bowl or glass measuring cup, combine all the dressing ingredients and whisk until combined. Pour all of the dressing on the salad and shrimp mixture and lightly toss to coat. Transfer the salad to a large serving platter and garnish with the reserved 1 Tbsp. chopped cilantro. Serve this salad with gluten-free chips or any green lettuce of your choice.