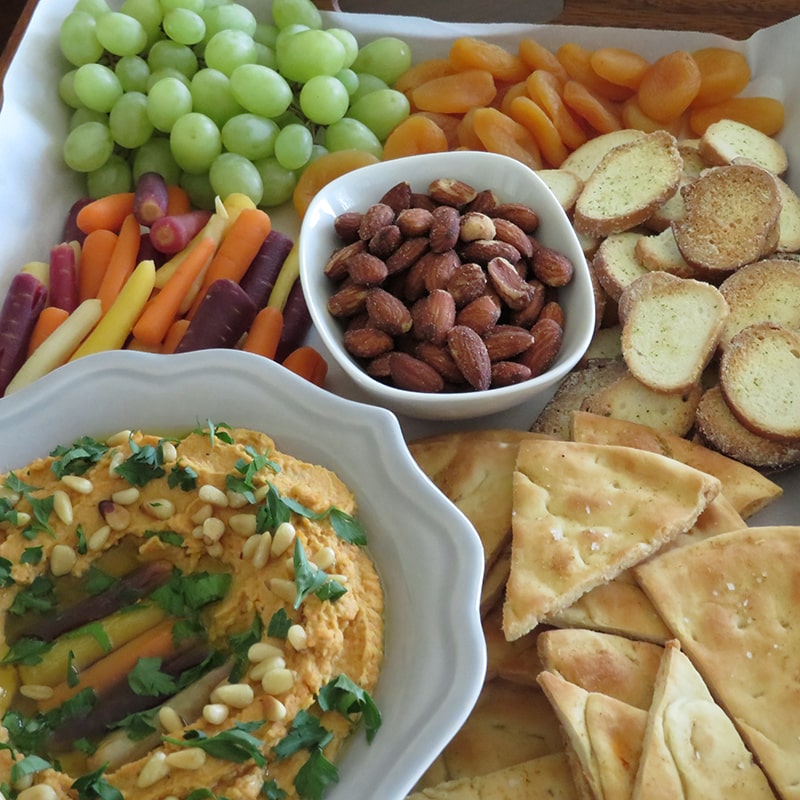 Summer has flown by so quickly and Labor Day holiday weekend not only means that working individuals have Monday off from work, it also signifies the near conclusion of summer vibes and outdoor barbeques! While some families travel to the coast for beach, sun, and surf, many others stay home and lit up the grill for burgers, hot dogs, and other bbq meats! My holiday weekend was about relaxation, rest, and binge watched SUITS, which is a show that normally doesn't interest me. After watching a couple of episodes on demand, I actually liked it! So, I kept watching all the episodes of Season 8. Since I didn't participate in a bbq event on Labor Day, I stayed in and made a nutritious snack tray using ingredients that I already had in the refrigerator and pantry.
There was a bag of carrots in the refrigerator that needed to be eaten before they go bad. I also had a small bag of green seedless grapes and this also needed to be consumed. The carrots gave me the inspiration to make roasted carrot hummus. I already had a can of garbanzo beans and tahini along with other essential ingredients for hummus. I love to incorporate doTERRA essential oils in my daily cooking and selected cinnamon and ginger essential oils because I knew they would go well with the carrot hummus. Besides, ginger is anti-inflammatory and works nicely with the natural sweetness of carrots. After the hummus was made, I arranged it in a serving bowl and drizzled some extra-virgin olive oil and garnished with toasted pine nuts and chopped fresh parsley. I used 3 pita breads and cut them into triangles and arranged them on a non-stick foil lined baking sheet. I drizzled 1 Tbsp. extra-virgin olive oil, ¼ tsp. kosher salt, and ½ tsp. ground cumin to the pita triangles. I used my hands to coat all ingredients and toasted the pita triangles in a 375 degree oven for 12-15 minutes. Even though pita bread is not gluten-free, I used them anyways. I also used gluten-free bagel chips flavored with garlic and parmesan. This was my first time buying the Glutino brand gluten-free bagel chips and I loved it! I was amazed by the robust flavors of garlic and parmesan. They were so good with the carrot hummus. The snack tray also included dried apricots, roasted almonds with a touch of sea salt, and fresh organic rainbow baby cut carrots. Talk about healthy snacks full of protein and fiber. All items on the snack tray are gluten-free (except for the pita bread triangles) and vegetarian. These snacks sure filled me up and became my lunch, afternoon snack, and dinner. For dinner, I used the carrot hummus to make a vegan sandwich and included cucumber slices and fresh organic baby spinach. It was so satisfying to know that I ate healthy and happy!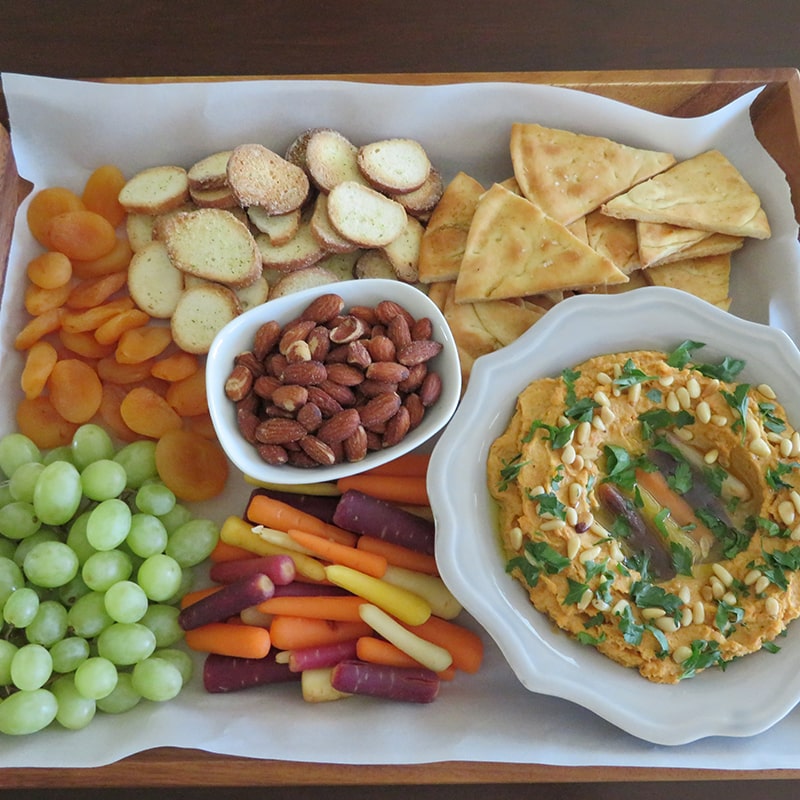 Roasted Carrot Hummus with doTERRA Cinnamon and Ginger Essential Oils
Ingredients
6

organic medium carrots, peeled, washed and dried

½

Tbsp.

extra-virgin olive oil

1

15 oz.

can low-sodium chickpeas, drained (reserve liquid) and rinsed

3

garlic cloves

¼

cup

fresh lemon juice

1/3

cup

cup organic tahini (sesame seed paste), well-stirred

½

cup

extra-virgin olive oil

1

Tbsp.

kosher salt

½

Tbsp.

ground black pepper

½

Tbsp.

raw honey

1

drop

doTERRA Cinnamon essential oil (or 3/4 teaspoon ground cinnamon)

2

drops

doTERRA Ginger essential oil (or 1 ¼ teaspoons ground ginger)

1

Tbsp.

toasted pine nuts, optional for garnish

1

Tbsp.

fresh organic parsley, chopped
Instructions
Preheat oven to 400 degrees. Drain chickpeas in a colander over a medium bowl, reserving chickpea liquid. Lined nonstick foil on a baking sheet and arrange the carrots. Drizzle the ½ Tbsp. olive oil on the carrots and coat evenly using your hands. Roast in the oven for about 25-30 minutes or until carrots are tender. Let carrots cool slightly before placing them in a food processor bowl. Add chickpeas, garlic cloves, lemon juice, tahini, salt, black pepper, honey, cinnamon essential oil, and ginger essential oil. Process until smooth and gradually drizzle the olive oil while food processor is running. If the mixture is too thick, add a Tbsp. of chickpea liquid at a time while food processor is running until you reach a desired consistency. Transfer to a serving bowl, make a little well on top of hummus and drizzle ½ Tbsp. extra-virgin olive oil. Garnish with pine nuts and chopped parsley. Serve this savory and slightly sweet hummus with warm pita bread, pita chips, crackers, and vegetable crudité.